"Starting Basic"
~ a book by Ray Favre
!!! 1st Revision March 2003 !!!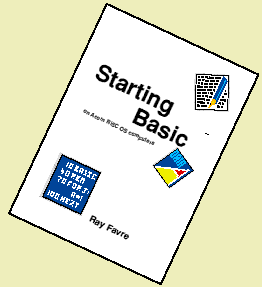 Update 2019-Nov-07: We have run out of copies of this book, and unfortunately could not find the original Impression document file among Ray Favre's effects after he died. He did leave paper masters, however, from which we could print paper copies on demand, but incorporating corrections or revisions would be a bigger job. Contact Archive magazine.
!! Note that the book is not being made available as a commercial enterprise !!
It is available solely as a non-profit-making exercise with all excess income over costs going to charity.
!! So far, over £1000 has been donated to charity. !!
---




The book is spiral-bound, A5 and has some 336 pages, including numerous diagrams and screenshots, 11 Appendices and an Index.

You can see a detailed synopsis, but brief details follow.

The book is intended mainly for those who are new, or fairly new, to programming in BBC Basic on Acorn RISC OS computers.


After ensuring that you can set up your computer correctly for Basic programming, the book adopts a tutorial approach in its early chapters - in order to give 'hands on' grounding in the fundamentals.


The most important Basic Keywords are introduced gradually - into working programs - and then further topics are introduced, resulting in comprehensive coverage of what a Beginner needs to know.


Necessarily, the book uses non-Wimp programs - but assumes that the reader will subsequently wish to progress to Wimp programming. Accordingly, this is kept in mind throughout, with many pointers in this direction and a final chapter introducing the nature of Wimp programs.

(If you want a good general introduction to Wimp programming, why not have a look at my other book on this same site?)

A program listings disc is also available - which incidentally includes all the book diagrams/screenshots in their original Drawfile form, to enable you to view/print them larger and/or in colour.



Back to start of page To my Welcome page.
---



You can download a sample from the book.

The sample file is approximately 40Kbytes long.

It is in Computer Concepts "Impression Publisher" format - so you will not be able to display or print the sample unless you have the necessary Impression software.




Back to start of page To my Welcome page.
---



If you want to buy a copy of the book please contact the author by Email at:


(Sorry about this 'non-live' address. It's an attempt to reduce spam.)
in the first instance, to check availability and price.(Currently, it is available at £16-00 for the book-plus-disc inc. p&p.)

Don't forget - only costs actually paid to third parties for copying/packing/postage are withheld from the selling price - the rest goes to charity: mainly to the Norfolk & Norwich Childrens' Fund


Back to start of page To my Welcome page.

---