"Dr Wimp's Surgery"
~ a book by Ray Favre
!!! 2nd Edition March 2003 !!!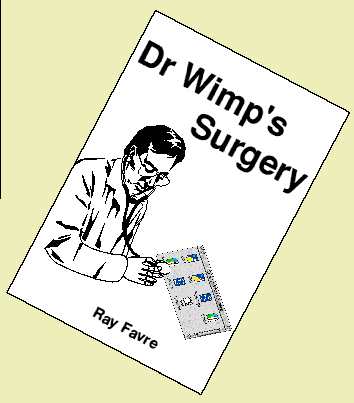 Update 2019-Nov-07: This book is presently available as PDF only. Paper copies could be printed on demand. Contact Archive magazine.
!! Note that the book is not being made available as a commercial enterprise !!
It is available solely as a non-profit-making exercise with all excess income over costs going to charity.
!! Sales of "Dr Wimp's Surgery" have so far resulted in over £1000 being donated to charity !! Let's keep it going!
---



The book is spiral-bound, A5-size and has some 320 pages, including numerous diagrams and screenshots, 10 Appendices and an Index.

You can see a detailed synopsis, but brief details follow.

The book is intended mainly for those who are new, or fairly new, to Wimp programming but have a reasonable knowledge of BBC Basic on Acorn RISC OS computers. (If your Basic is a bit rusty, why not also have a look at my other book on this site?)


As its name implies, the book concentrates on the use of the Dr Wimp PD package (by Andrew Ayre),but it also seeks to give a good introduction to Wimp programming in general.


It starts with a practical demonstration of the advantages of Dr Wimp - by producing, describing and comparing three different ways to program the same very small application. The first way uses fundamental Wimp programming; the second way is like the first but uses window templates; and the third way uses Dr Wimp.


Comprehensive coverage of using Dr Wimp is then commenced, initially by using a tutorial approach to build up a typical application step-by-step over several chapters. Later chapters then introduce the rest of Dr Wimp's main features.


Ten appendices provide mainly reference material, most of which is applicable to all types of Wimp programming i.e. whether using Dr Wimp or not. In particular, two major appendices cover icon validation strings and the detailed use of the !TemplEd window template editor (PD by Dick Alstein and included in the Dr Wimp package).



A 1.6M format floppy disc is included with the book and contains listings etc. for all the tutorial applications developed in the book - and a copy of the complete Dr Wimp package.



Back to start of page To my Welcome page. To the Dr Wimp page
---


You can download a sample from the book.

The sample file is approximately 26Kbytes long.

It is in Computer Concepts "Impression Publisher" format - so you will not be able to display or print the sample unless you have the necessary Impression software.



Back to start of page To my Welcome page. To the Dr Wimp page
---



If you want to buy a copy of the book please contact the author by Email at:


(Sorry about this 'non-live' address. It's an attempt to reduce spam.)
in the first instance, to check availability and price.(Currently, it is available at £16-00 for the book-plus-disc inc. p&p.)

Don't forget - only costs actually paid to third parties for copying/packing/postage are withheld from the selling price - the rest goes to charity: mainly to the Norfolk & Norwich Childrens' Fund


Back to start of page To my Welcome page. To the Dr Wimp page

---